One hour later... I'm up from my nap. Yes, another nap. It was short this time.
I'm off to run some fun errands like return a DVD ("
The Ides of March
" was indeed good acting even if I didn't know what was going on half the time), go to Trader Joe's (because I love it so), and... get my date on with "CSI." Yeah, I planned myself a mini-date this weekend.
And now for...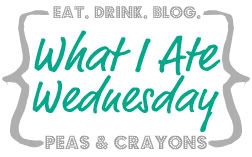 Dinner: green beans and salmon... I think this picture is upside down. Can you tell?
I also had some un-pictured
mac and cheese
from
Whole Foods
. I only ever eat at their salad bar on Wednesdays when it's $2 off. Otherwise, I find it way too expensive for mediocre food.
This afternoon, I tried a
Halo bar
. I chose the honey graham flavor, and was rather disappointed. The honey flavor might've been too real for me. I only ate half of it. :( Maybe the other flavors will be better.
Other eats today:
What are your favorite bars?
Have you tried a Halo bar? If so, what are your thoughts?