Whoa, the weather got crazy, but I saw it coming. I learned about it in science class with the kids.
Um, it has something to do with the Sierra Nevadas/Pacific Mountain Range diverting the rain west and south. I tried to search this, but apparently, most info for the public is watered down to... yeah, we're getting rain.
Meanwhile in science class today, we learned about volcanoes. So cool! I learn so much in that class, including:
Jupiter's moon, Io
, is about the size of our planet and is the ONLY other volcanic body in the solar system besides Earth! It has snow though, which won't melt because it's so far away from the sun.
(image from
NASA
)
Mauna Loa
, which is on the Hawaiian Island, is the largest volcano on Earth. It begins underwater and
(image from NASA)
Mount Hood
near Portland is a composite volcano, which means it's neither a low-lying nor explosive volcano. It can in the next 200 years have a explosion that will wipe out Portland though.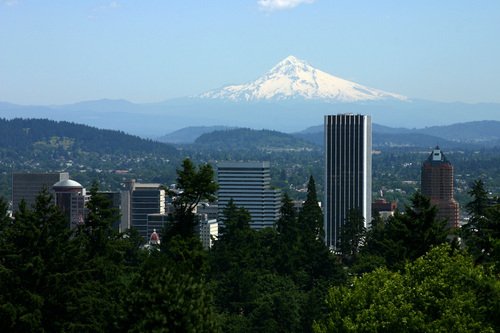 (image from
Planet Ware
)
The teacher is so knowledgeable that I'm going to actually start keeping up with the news! Really! Starting with
NASA
! Maybe I should just pick up a basic textbook though huh?
None of us want to leave the house. I finished making a half batch of
Love Veggies & Yoga's Caramel Apple Bars
. I can't wait to taste them!
Today will be dedicated to reading
Firefly Lane
and listening to calming music.
Julie of PB Fingers
had a link to Jack Johnson's "Banana Pancakes" on her site and I thought it was perfect for the rainy day!
That, and a song we listened to in class today: "Somewhere Over The Rainbow" by Israel Kamakawiwo'ole!