After coming home last night with a big bruise on my leg and kickboxing under my belt, I saw a big box at the front door. Heavy box. It was my mixer. I ordered it Sunday night and got it by Wednesday. Quick! I cleaned the kitchen to find my baby a counter. I think it'll need a name. Till then, I am dreaming of things to make with it.
First, I made a tester cream cheese frosting for my cupcakes.
I bought a bag of shelled pistachios last night when I went out with my roomie. Rarely do I get to do things with nuts and I'm not really into shelling a ton of pistachios so I'm itching to make
pistachio and chocolate rolls
.
Tomorrow marks the 4th anniversary of living with my roommate. Wow. We're going out to dinner on Saturday, but I think I should bake him something. Usually I'll make him a blondie or a tres leches cake. Until I can make him a tres leches like the chocolate tres leches from Kogi BBQ, I'll make something I've never made him: white chocolate macadamia nut cookies. I can't decide on a recipe quite yet though.
Banana macadamia nut pancakes w/ white chocolate creme anglaise
Carrot, pineapple, ginger, and macadamia cake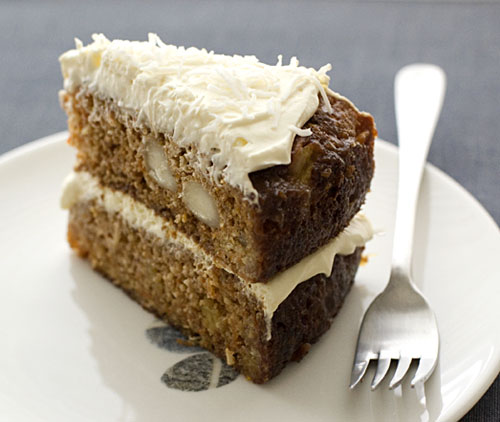 Milk & Honey's white chocolate and macadamia nut cookies
, picked because it comes from a cute website
Another choice from Love & Olive Oil
Love & Olive Oil also featured a
white chocolate and macadamia nut cupcake
Nigella's
white chocolate and pecans blondie
REVAMPED
with macadamia nuts!
Another great event, Conor's coming back into town! He's been in Australia/New Zealand and I haven't seen him in awhile. We had a fight once when he was too trashed and I was not too happy with his behaviors. Anyways, he didn't know what happened and I was too upset to call him back. Adam brought us back together before Conor left for down under.
Conor, Adam, and I are the remaining members of our history family. The history family was so-called cause it was a bunch of us who wrote our thesis together and hung out. Everyday, pretty much, we'd write during the day and go out for food and drinks. It consisted of the two guys and four girls. One is too anal and hates me and the rest of us now for separate reasons. One of the guys put moves on one girl and now she's crept out. The other guy's friend hit on the last girl and also, she's moved on.
How have I managed to stay in contact with the guys? We knew each other separately before the thesis. Conor is from San Diego and we took classes together. We'd go to dinner quite often just the two of us and chat. I've known Adam forever now, we have a group of friends in common, and we sometimes hung out for no reason too.
So it was sweet when I got a call from Conor after so long. That he remembered and thought of little old me more than a year later. :) We're going to relive the old days, which means lots of drinking. I think it'll be good to hit up places I have yet to go like the Barcade.