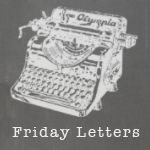 Dear Car,
You're so high maintenance in your old age. I know it's only an oil change, but I've spent $1000+ on you this year! You're the only car I've ever had and I love you though.
Dear Future Home,
Find me soon. We've been looking for you and we're ready. We just need a good location and an equally good price.
Dear Gold's Gym,
You're less and less intimidating.
Dear Body,
I love the muscles I'm getting! I love that I'm losing weight slowly. I will continue to feed you well, and I will try to sleep more.
I want to feed you more of these...
Dear Feet,
I will
NEVER EVER
try to put you in heels again. I wore wedges for 15 minutes and they rubbed my heels the wrong way
and
I got a blister on my toe. :(
Dear "Bones,"
I'm so glad you're back. The first episode of the new season was so good.
(
source
)
Dear "CSI,"
Speaking of "Bones," I miss you too. When will you come back?
Dear Fall,
Just a few more days till you're here. I can't wait to make these
pumpkin pie protein pancakes
and another batch of
super soft pumpkin chocolate chip cookies
.
What show are you excited to see return this fall?
Do you wear heels?