I eat 2 egg whites every morning. I just switch up the carb to make it interesting/exciting: Van's Lite waffles! Two days in a row.
I only slept 6 hours or less yesterday. I needed coffee to power me through.
And boy, it got me through!
I went to the gym immediately after work for LiveFit Day 62. The exercises went well, but I was mostly itching to sprint.
Part of my workout was done the night before when I spent 30 minutes at the gym, in search of weights. I decided not to post my workout weights today because I'm not using my own computer and because my weights aren't increasing now with more reps.
I got nice and sweaty before I went to my friend/co-worker's yoga class.
She subbed a couple of classes at a new studio,
Harmony HB
. The studio is large and offers yoga, barre, and wait for it, hoop dancing. Hoop dancing brings me back to Asheville. Unfortunately, that's where my hoop is too. :/
The class is a yin yoga class, which focuses on deep stretching of the muscles around the hip. I totally needed it. I found out that my hips are not as open as they once were. More stretching needed...
I received a coupon from Zone Perfect in the mail the other day so I bought their blueberry flavored one at Whole Foods on my way home. I ate 1/4 of it and saved the rest for last - I do this all the time.
Some music before bed...
Today is pictureless. Oops. I got my Foodie Penpal package and did take pictures. Of course, that won't be revealed until the end of the month!
Here's a quick recap of my day:
Taught half of a math class when the teacher had a meeting and a sub failed to show up.
Went to the gym for LiveFit Day 64, a leg day. I worked hard on my hamstrings, did the lateral bound and long jumps, and felt pain in my knees. Gah, must give them a break.
Picked up my "The Color Run" packet! :)
Helped my cousin buy a thank you card for his internship.
Studying. What??!
And now, here's a new feature: 3 On Thursday.
What three books are most important to you? What books do you re-read most frequently?
1) You should probably know that I don't reread books. Except maybe ONE: The Ear, The Eye, and The Arm

.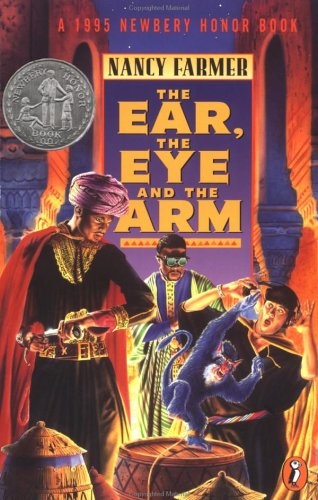 (
source
)
I read this in a geography for teachers class. I loved it. It's not a book I would typically read, but I love the fantasy of it.
2) Since I don't have other books to report on, I thought I'd just tell you what books I'm looking forward to. I finished Catching Fire and it's a cliff hanger so I can't wait to read Mockingjay!
3) Bill Bryson. I have two of his books on my shelf, In A Sunburned Country and At Home. I'm so glad he wrote the latter.
Your turn!
What books are you reading?
Do you re-read books? Why or why not?
There's a yoga for everyone so what's yours?