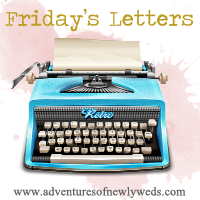 Dear Daddy
, I'm so excited you're finally coming to visit! I can't wait for all the adventures.
Dear Julia
, Thanks for not scheduling me much at my less awesome job.
Dear Equinox
, I'm applying for a job because I want to use your facilities.
Dear Mom
, Stop eating all my bananas. I would eat them first, but they're still unripe.
Dear Cassey
, I can't wait to meet you!
Dear Carolyn
(Foodie Penpal), Thanks for feeding me treats!
Dear Color Runners
, I'm so nervous for Sunday!
Dear Orbitz,
I need a cheap ticket to Austin ASAP!