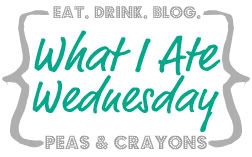 What I didn't eat.
My co-worker got the daily free Sprinkles cupcake. Too many sprinkles for me, and she said it was a little overcooked. :/
What I did eat.
I've been eating this
low carb peanut butter frozen yogurt
every time I work my night job. It's 8 calories and 2 carbs per ounce.
After a huge bowl of
egg white oats
, I wasn't hungry for lunch but still ate my
2 chicken, hummus, and spinach wrapped in seaweed/nori
.
Pre-work frozen yogurt then it wasn't till 6 when I ate dinner:
pollack, 1/2 sweet potato, & sweet mini peppers
.
The sweet potato is so good with nut butter.
PowerCakes has a recipe
with coconut oil. The perfect compromise: my new
Earth Balance peanut butter & coconut spread
!
I finally got hungry (or just not stuffed) and craved some pizza after work - just 2 hours later - and ate a slice of
zpizza's Napoli pizza
.
Other eats [from Monday]
And... new shoes!
Yesterday morning I went to Zumba and boy is my rhythm off! My feet hurt too - not wide enough sneakers. I vowed to finally buy a pair of New Balances after having read tons of reviews in the past few months.
No luck at the New Balance store. I was disappointed and walked over to Sport Chalet. They had the shoes!
New Balance WX20
Not the best picture of my (c)ankles.
They're not the wide ones, but New Balance makes their standard wider than others. Note: they are also shorter in length than others though.
I was excited to try them in TurboKick so I went. Without socks. The shoe salesperson suggested it. My feet rubbed against the fabric and it stung! :(
Regular athletic socks are too thick so I tested out the shoes with a pair of cheap novelty socks. Winner. I wore them all day and my feet didn't hurt!
I'm testing the shoes out for everyday wear and working out this week. I know you're not technically supposed to use them for both, but if they work out so well, I'll buy another pair.
Did I mention these were $50 at Sport Chalet yet $75 at New Balance and $80 on zappos.com?!
What's your favorite sweet potato condiment?
Favorite condiment in general?
What are your go-to shoes? I used to wear Nike Free XT before I got a pair of the Nike Motion Fit. The latter are too slim.