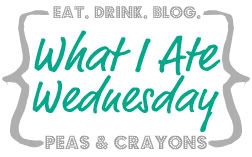 Today began testing for the kids so all I did was sit and stare at students I didn't know. Despite the silence, I quickly got acquainted with them. My ease with the students even surprised me and resulted in the teacher repeating that I'm one of the best aides he's had in years. He started telling me about himself, which isn't typical to our relationship, and offered to write me a reference letter when I need one. :)
I started the morning with a
Glutenfreeda chicken & rice burrito
. Two thumbs up, but it's smaller than Amy's so didn't fill me up. I added lite string cheese (Trader Joe's), 1/2 a Z Clif Kid bar, and Chobani Champions Honey-Nana to hold me over.
After work, Dad and I roamed around before an exciting early bird dinner. He shopped while I perused Whole Foods, REI, World Market, Costco (yay samples to hold me over again) and
Old World Village
. I wish I had more time to go inside the restaurants and shops.
I thought Old World was just one big store not a cute village resembling Europe (maybe?).
Finally dinnertime! We headed to downtown Huntington Beach for Surf City Nights. I don't get Tuesdays off much but when I do, I come down here for the farmer's market...
...beach goers, especially with the agreeable weather
...and
Taco Tuesday
at
Fred's Mexican Cafe & Cantina
!
I was starving when we finally got in so I forgot a picture before I ate it all! Thankfully, the restaurant is popular enough that someone else ordered the same combo: pescado (grilled fish) and chicken tacos.
Post-dinner yoga xs 2. I went to Intro to Yoga and Vinyasa Level 1 yoga taught by my co-worker Alison. I'm not a newbie but wanted to get some extra stretching in.
In the second class, I successfully did a tricep pushup/chaturanga. I've said that before but today's was the best one I've ever done! I was in control. :)
...which reminds me of a post I found:
Good thing to keep in mind!
Lots of twists. After yoga, I always have to pee and am subsequently thirsty. :/ No water so I treated myself to some froyo from a super-packed
Cherry on Top
.
Time to drink water and maybe do my nails. Shoot, I forgot to grab my tweezers to pluck my eyebrows. They're in the car and I'm far too lazy to go outside right now.
Your turn!
Do you keep your morning meals in check when you expect a dinner out?
When is performance more important than aesthetics for you?