In anticipation of testing today, I brought my CTEL book to study for that darn exam (teaching ELL students). I did a few sections but was sent for errands and finally got to take the kiddos outside for a little bit. Tomorrow we may play basketball.
One of the students climbed the basketball pole... all the way to the hoop. I was amazed and need to build enough muscle to do it.
Amy's breakfast burrito kept me full in the morning. I went over to my cousin's - no one was home because he walked for his graduation - and made a variation of the
Chipotle Sweet Potato & PB Wrap
. I just mashed up 1/2 a large sweet potato,
Cookie Nookie
peanut butter, and
Trader Joe's spicy black bean dip
.
Wrapped inside a low carb tortilla spread with Fage 0% as "sour cream."
I headed to my massage and chiropractor's appointment. I was nervous because the reviews weren't favorable.
My massage was ridiculous. The therapist focused on my back and shoulders, but it hurt. She was tough, but I thought she knew what she was doing.
I also saw the chiropractor and thankfully, he didn't try to sell me anything beyond my Groupon. I got my adjustments including some for my hands and knees - they felt strange but were great.
It was rush hour so I chose to drive down the Pacific Coast Highway. On my way north, I stopped by
Icicles
for froyo and was happily surprised with the return of low carb/low cal PB froyo! :)
I never realized how much coastline Huntington Beach has until I drove from the southern portion to the north to
Harmony HB
.
I was a little early so I enjoyed a quick walk into Trader Joe's for light Baybel and
cinnamon almonds
. I loved the Baybel and was inspired by a friend to get the almonds, but the almonds were extremely crunchy... almost inedible unless I pick the crunchiness off. :(
Onto the classes tonight: level 1-2 yoga and hoop dance. I had such a great time tonight! I took yoga with my two co-workers and one other yogi.
I've never practiced so much yoga and I love it. Okay, I love all ways of moving my body so it's no shocker. Today's class was more of a level 2 class and I felt challenged but everything was within my reach - I just need practice. Pigeon and lizard poses were possible with lots of breathing through the pain. The instructor did mention my hips are tight despite my ability to do the moves.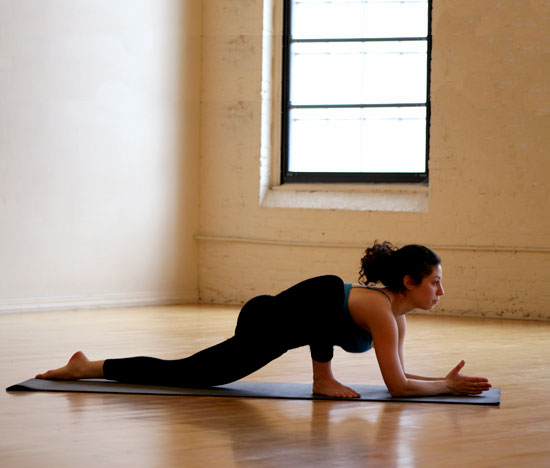 I stayed for hoop dance and was reminded of Asheville, hippie town!
I shocked my co-worker with my experience. And when I say experience, I only mean the basics. Customers at the bar next door stopped by the window to watch!
That was my day: 4.5 hours of work, 1 hour of food prep, 1.5 hours of massage & adjustments, 3 hours of fun fitness, and countless minutes driving.
Now for 6 hours of sleep :( before the last day of testing. Hopefully I can squeeze in a nap before working tomorrow night.
What workouts have you been obsessed with at any given point in time?
I need to go to Bikram. I started my Groupon deal but didn't find time last week.
What more obscure workouts have you tried? Have you tried hoop dance?