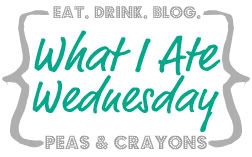 Words cannot explain how bloated I've been the last couple of days. :/ Sometimes this happens. It hurts and I just have to deal with a not-so-great body image.
I found and ate some great food though so I'll just take a nap and hope my belly disappears tomorrow.
Check out what I found at
Sprouts
:
Love Grown granola
. I finally get to use my coupons!
I love the Nut Thins, but these were on sale and I had a coupon!
Something else on sale: Vega Sport protein bar. The regular price put me off.
I convinced my mom to buy us
beignets
from
Lynda Sandwich
to share with my family.
At night, I took time to paint my nails. The nail polish (Wet N Wild's wet cement) was only 99 cents at Walgreens and comes with the coveted flat brush! I didn't apply a top coat as usual.
Today's
breakfast
was a low carb wrap with hardboiled egg whites (+ a yolk), 1/2 avocado, & lettuce.
I made
quinoa with shrimp for lunch
and
Only 8 froyo
from
CdM Yogurt
to finish (cake batter & chocolate fudge flavors).
My dinner was dismal: just
1/2 container of canned chicken with steamed broc
. I added a half order of
sweet potato fries
from
The Veggie Grill
.
After deleting MyFitnessPal, I was still hesitant about eating foods I love, primarily frozen yogurt and sweet potato fries. I've been craving them lately and yes, gone crazy over it. Thankfully, the froyo is the Only 8 brand!