Its been rainy for the past few days.
I've slept at random times during the day, usually an hour or so between 4-6. Of course I then stay up late and then sleep in.
And it's not like I'm reading like I hoped. Instead, I've watched movies and mulled over what I will do on my vacation.
This was good. Seth Rogen is the marriageable type?
The bottom half is a list of all the places I want to get my eating on.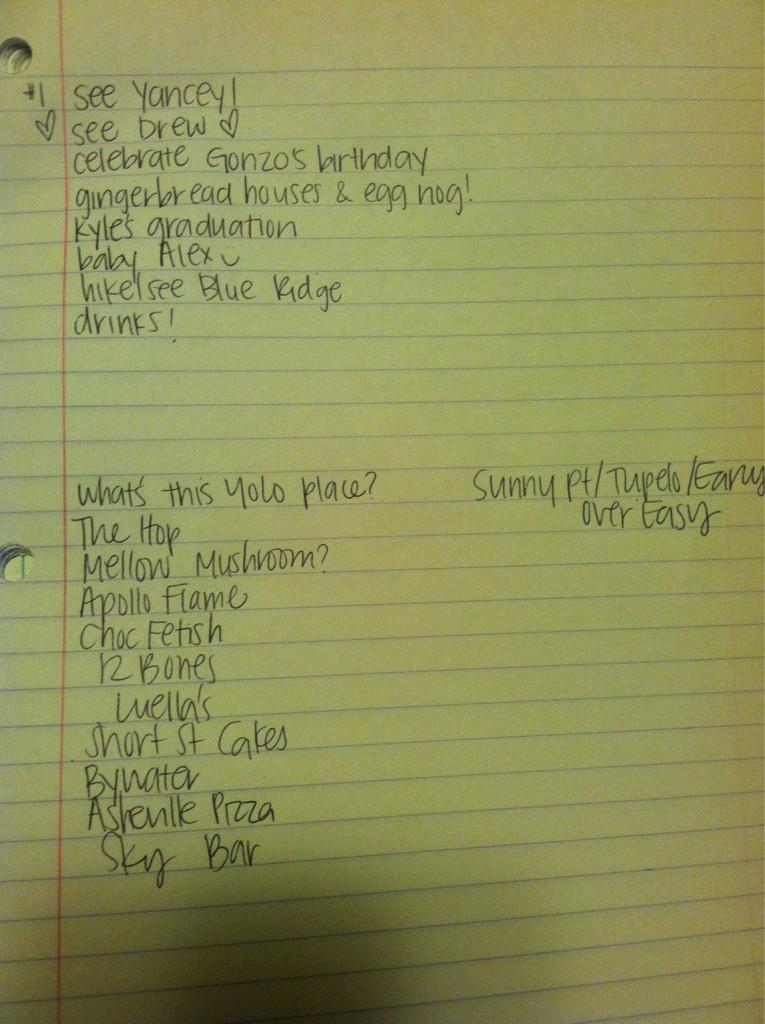 With holiday shopping and my upcoming trip, I've got to save up. I want a pair of boots only if I find a pair I really like. I found a brown suede scrunchy pair but prefer gray or black to match more of my clothes.
Budgeting week #?
*Its been awhile
.
Groceries
- $39.60
Silk PureAlmond milk - $2.24
Frosting Creations cinnamon roll - $0.89 *to mix in with Greek yogurt, but this was a fail
Almonds - $0.99
Kombucha - $2.55
Sale Halo bars (2) - $1.00
Sale Luna Fiber bars (2) - $1.00
Stevia soda - $0.91
Blackberries - $1.25
Blueberries - $2.00
Hansen's sodas (2) - $1.12 *for my cousin
Chile spiced mango - $3.98 *for my cousin
Power to the Greens (2) - $3.98
Sardines (2) - $2.58
Cinnamon apple sticks - $2.49
Z Clif Kids bar - $0.69
Eggs - $1.79
Luna bar (for Chris' birthday) - $1.00
Clif bar (for Chris' birthday) - $1.00
Hansen's soda (for Chris' birthday) - $0.62
Grapefruit-ginger yerba mate (for Chris' birthday) - $1.74
Tofu shirataki noodles - $1.49
Mini cake (for Chris' birthday) - $2.50
Whole wheat flatbread - $2.29
Other
- $20.28
Cash - $10
Yoga - $5
Soy cheddar - $2.99 *for L.A.
Whole wheat flatbread - $2.29 *for L.A.

Gas
- $40.00
Total - $99.88
Breakfasts
egg white oats
with blackberries or blueberries
Entrees
MTWRF lunch: chicken salad
MRF dinner: chicken nori rolls with cauliflower
TW dinner: flatbread sandwich or pizza (2)
Snacks
popcorn
Luna Fiber bars (2)
string cheese
*thanks to my cousin Chris for supplying!
sweet potatoes
Jamie Eason cinnamon swirl protein bread
Workouts
Monday - Zumba
Tuesday - Athletic training
Wednesday - Yoga
Thursday - Core, Cardio, & More
Friday - Yoga for Charity
Saturday - Boot camp/TurboKick
Sunday - Rest?
How do you eat healthy on vacation?
I don't want to be crazy and pack a ton of stuff.