First, let's get to why you're here. It's Social Sunday!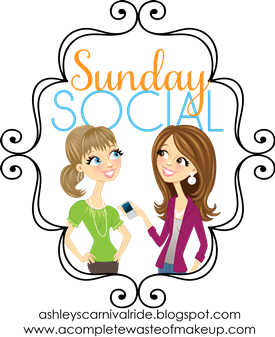 Favorite childhood book: Who didn't read The Babysitter's Club? Or Goosebumps? When I was a teenager, I read the book A Walk to Remember in 6 hours. I also loved and cried when I read some of the Sisterhood of the Traveling Pants series.
Favorite book lately: I am reading Life of Pi, but it's slow going. I read The Violets of March really quickly.

(source)
Books you wished you could live in: Harry Potter! I wish I could go to Florida now...


(source)
If I could be any character from a book, who would it be and why: This is a hard one. As I go through my favorite books, I realize how tragic they can be. My default would be Hermione from Harry Potter.

(source)
Favorite book turned movie: "The Help" was the last fantastic rendition of a book. I cried. Overall though, Harry Potter wins. Though I admit, I never read books 5-7.

(source)
Favorite magazine: I used to love Teen Vogue. I've read so many in my life that I've stopped reading them altogether, plus we have the internet. Still, I like Glamour.

(source)
While we're on the topic of books, I committed to 24 books this year and am behind. Here's a list of books I'm hoping to get to:
Life of Pi, which I'm reading now
Mockingjay
A Walk in the Woods
Population 485
Revenge of the Mooncake Vixen (already started)
Shanghai Girls, which I started but didn't get a chance to finish
What's on your to-read list?
And now I want to share something
even
more
personal with you:
Awhile back, I told you I deleted MyFitnessPal. I was obsessed. Then I wasn't. Then I was. Well, it's off again time. I like to alternate when I start getting crazy.
Another reason? I woke up too early on a Saturday with a dreaded feeling that I needed to work out and I had to go now. I knew I'd feel guilty if I didn't go.
So I went and it was bad. My body was still tired from yesterday's workout and did not get enough rest last night. My hips, which I've been working like crazy, were sore and my feet hurt towards the end. Edit: it hurts to sneeze and it's not in my abs either.
Working out when you really should sleep is unhealthy. Yep, it wouldn't be unhealthy if I normally slept in. I don't though so when I should sleep, I really should.
I've also become more than tired than usual this week... and bloated. Sorry for that. My body hasn't felt like.
So there goes calorie counting and instead, to monitor eating through how my body feels.
In addition, next week will be different. I did a lot of yoga this week but also pushed myself with a few circuit training workouts too. I didn't get a whole lot of rest.
Next week will be more of a rest week. Here are the plans... for now:
Sunday - yoga or rest
Monday - TurboKick, yoga
Tuesday - barre
Wednesday - yoga
Thursday - bike to work, barre
Friday - yoga
Saturday - Zumba
Sunday - bike to gym for yoga
I don't want to leave you without sharing the
microwave raspberry cheesecake protein cake
I made tonight.
Microwave Raspberry Cheesecake Protein Cake
2 egg whites
1/4 cup Greek yogurt
2 tablespoons oat flour
2 tablespoons protein powder (I used MRM vanilla)
1 wedge Laughing Cow wedge
1 tablespoon raspberry jam
Mix it up in a bowl and microwave for 2 minutes.
*
Of course, the microwave time will depend on your microwave.
**I find it hard to put in any oil on the bottom if I'm mixing my cake in the same bowl.
Answer some of the book questions! This week's questions were so much fun to read.