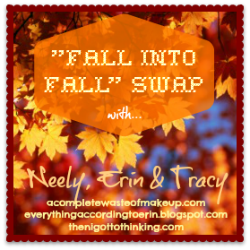 I love swaps and jumped on this (almost non-food) fall swap. I was matched with Kate of
Green Fashionista
. She sent me lots of orange and black!
My package included a candy dish, fun straws, a sparkly koozie, a luxurious candle I can't stop inhaling, and 2 fun polishes.
The straws are super cute. It's a little early but I broke it out anyways.
The straw has been particularly helpful today
as I lay in bed, unable to move my head...
Wait, what?!
This morning, as I was driving, I turned to get something from the back seat and felt a strain in my neck.
The left side of my neck, head, and upper shoulder area is in so much pain that I was in tears! I'm feeling a little better with slow stretching, but I'm out for the day. :(
My head is cranked forward and a bit to the right till I get back more range of motion. The worst part: it hurts to lay my head down and then I can't get back up - heads are so heavy!
Check out what I sent Kate
here
! I clearly had trouble not sending as much food; that's the sign of a
Foodie Penpal
.
Have you ever had neck pain?
I also probably slept on it wrong last night...