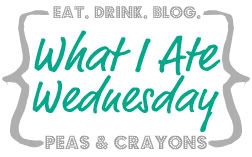 I've had a green juice at least every other day. Sure, I could make my own, but Mother's uses organic ingredients that would cost me so much more to purchase on my own.
I haven't eaten a ton of meat lately and woofed down half of this meal: rotisserie chicken breast + Trader Joe's salsa verde.
Quest
bars have been a quick and easy tummy-calming snack/meal. I love chocolate chip cookie dough and tried the
banana nut muffin
. Liked it!
Lemon cream pie
was okay.
More liquids in the form of Plant Fusion's chocolate protein powder
Monday morning prep: oatmeal protein pancakes and a chocolate protein shake
I ate all the cherries in this bag immediately. Now I don't want the rest. :(
I finally opened up my
fitmixer
clean energy and used it pre-CrossFit yesterday. It helped me get in 30 sumo deadlift high-pulls in 1 minute!
Post-WOD chocolate-cherry protein shake and a read:
I got a call from the other school I interviewed with - it's a no-go. Sucks, but I'm still grateful to get an interview without the credentials and rock the interview.
That just meant I was a nervous wreck all night. I never knew I could have butterflies while asleep, or rather, half asleep. Worst night of sleep ever!
I started by going to Office Depot to buy supplies for a better portfolio. The woman who works there gave me her number so we can chat about teaching. Hah.
I found my awards from college. :)
My friend Sara also gave me some other advice, including...
I went to 6 A.M. CorePower yoga 2 with my brand new friend who I met on Saturday, and "breathed."
Sara also told me to make a list of things I'm grateful for. Here ya go, and now it's time to get dressed for this thing!
Send good vibes!