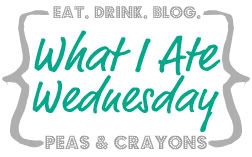 I caught up on sleep on Monday & Tuesday, watched some shows, did some homework, and found a few links/articles to share:
Now it's Wednesday and that means... it's back to work!
First, a short installment of WIAW:
My new favorite ice cream and only 130 calories per serving!
Chicken in an avocado cilantro sauce with baked sweet potato rounds for dinner
A batch of choco-mole anytime of the day, but I had some with egg whites and bread for breakfast!
The delicious recipe came from students in the guacamole & salsa showdown at school!
I inherited a newer, cleaner car after 10 years with my first and only Jeep.
How do you use avocados?
What was your first car and how long did you have it?