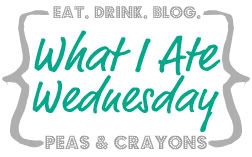 The other day, I got a package in my mail. The kind people at
Garden of Life
heard me and sent me their chocolate
Raw Protein
.
I simply blended it with some almond milk, greens, 1/2 banana, and ice. Satisfied my chocolate craving and doesn't hurt my stomach!
Other cravings: wine & cheese while watching the finale of "The Voice."
Apples &
delicious
Wild Friends
' newest sesame cranberry peanut butter - it has a chewy texture.
Our mornings look like this.
Today was crazy winter hat day. I bought this hat years ago for $5.
We finally put lights out. First time ever.
Favorite pose:

Dancer's pose!
What new foods have you discovered?
What's your favorite yoga pose?