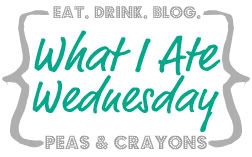 Let me be honest, this edition of WIAW is rather sparse. It's more of a catalog of my week thus far with some food thrown in. My food hasn't been all that exciting: Shakeology smoothies and BLTs mostly.
Post-yoga on
Sunday
- so I raise my eyebrow a lot.
Moved into my temporary classroom on
Monday
, lunch with co-workers (bland shrimp salad with salsa for dressing), met with guidance counselors, and spoke with parents.
Had to reassemble the whole class. I plugged everything in... and have 2 cords left...
Everyday, a Shakeology smoothie. Note to self: need more bananas.
Is it too early? I love fall but summer has been amazing too.
I'm getting over my fear of having blood drawn... as long as I don't look.
Tuesday

night Dave & Busters

: a skinny Long Island for me and a self-sustained air hockey injury. I get intense.
They snagged a bunch of candy while I got a Pikachu stuffed toy for my little cousin.
My teeny ankles and wrists get sore from yoga and weights respectively. Since I stressed out my ankles at yoga on Sunday, I decided to sleep in an hour and go to
BodyPump
today
. I like recoding my weights here so I can remember:
Warm-up - 25 lbs 20 lbs
Squats - 50 lbs but I really felt it this time
Chest - 25 lbs
Back - 35 lbs
Triceps - 25 lbs used plates today
Biceps - 20 lbs 15 lbs
Lunges - 35 lbs squats + plyometrics
Shoulders - 20 lbs on the bar + switch between 5 & 10 lb plates in each hand
I looked around and saw that I was among the smallest in the class, but when I go out, I feel like the largest. My friend posted this picture of us from Friday night and I don't look so great. *
I'm wearing the black and white dress
.
Is it the dress? But look at my arms! Though I've lost 5+ pounds this summer, a lot of it appears to be muscle! :(
Afterwards, I picked up my friend Vanessa for a day of fun.
We went makeup shopping at the
Benefit Cosmetics
counter. I ended up with mascara, concealer, and moisturizer + gifts with purchase.
We stopped by
XA Sweet & Savory Cafe
for lunch. I love this place, but it's usually far for me. I chose grilled chicken, roasted plantains, and steamed edamame. No picture but believe it was delicious!
We headed to
Oak Canyon
for a nice short walk.
I was surprised by the woodsy surroundings and running streams of water. This would be a gorgeous date spot.
I rushed to meet up with my co-workers at Wahoo's to use the free Wahoo's coupons we got at work. I was still full so didn't eat, but we took a nice walk and got some coffee while one of the girls read our love lives using playing cards for fun. It was funny:
I just want to have fun and am all over the place. Yup.
There's a guy and he's into me. He also knows what he wants.
There's someone (a male friend or relative) close to him that is his mentor and watches over him... because I'm such a sketchy person right? Hah.
We made plans tomorrow for a local shopping adventure instead of venturing to the desert. Maybe there will be a Barnes & Noble stop to read horoscope books like I did in high school. :)
Speaking of books, I have a gazillion books I've yet to read. I haven't picked up a book to read for leisure since I started classes in March! Yikes!
Your turn!
What's on your list to read? The first book will be to actually finish The 5 Love Languages that I got from my co-worker this summer.
What kind of makeup do you use? I'm making a conscious effort. Once in awhile, the realization that I'm a girl occurs. Haha.
Is there something you eat everyday?
For awhile, I ate
oatmeal protein pancakes
every morning for 2+ months. Now I have a Shakeology everyday and BLTs!