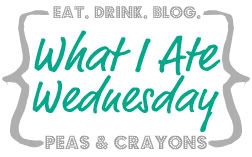 Monday night, Vanessa and I went to
Native Foods Cafe
for a late dinner. I got the special:
Oklahoma bacon cheeseburger
. All vegetarian and delicious. It came with a side of sweet potato fries, my favorite.
I waited all day (and night) for this!
She wanted to get a drink (none for me) so we headed to a bar that I've only gone to on weekends. The crowd was mixed but odd and honestly, a little scary.
I stayed up late because I was full and woke up early for another staff development day.
Shakeology and this Herbalife bar that was provided at the breakfast. Why not?
After eating out yesterday, I wasn't too excited about lunch out with my co-workers. Except we picked
Mama's on 39
and they had
roasted spaghetti squash with a bit of Parmesan
and, on mine, I got
grilled chicken
(not pictured). Wow.
I skipped out a few minutes early to take a quick shower and meet up with another new friend. We had some good conversation that continued when I got home (via Facebook messaging
and
a 15 minute or so phone call).
I realized the power of positive thinking tonight. I'm a rather positive person and haven't let much put me down thus far. My situation at work is in the air after the next month and a half, but I'll enjoy it while I can.
My
workout
yesterday made me sweatier than I've been in a long time. I really had to push through with the overhead lunges.
My
U.S. History
classes will be
making towers
. I "borrowed" this idea from TED talks.
My one
World History
class will be writing prompts on how to prepare a peanut butter sandwich. I will then construct the sandwiches based on their instructions.
Finally, my
Government
classes will either A) play people bingo, B) think together in a fictional "Alien Attack," C) make a timeline of their lives thus far, or D) anything else I can think of between now and then.
Where do you get the best burger?
Believe the hype, I love the Greenbird from
Umami Burger
.