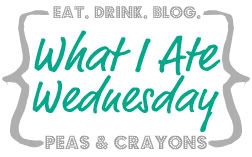 I didn't get to do a proper review of the grub from the
Blend Retreat
.
Thanks
Janetha
,
Lindsay
,
Katie
, and the huge sponsors for all the yummy food. I was glad to see such big names like Laughing Cow, Vega, Blue Diamond, and Chobani as well as some new-to-me brands as well:
I've been working my way through all the samples.
Vega
gave each attendee a box with protein powder, pre-workout formulas, and savi seeds. I've wanted to try the savi seeds for awhile. Of course, the cocoa-kissed one was my favorite. Honestly though, the chocolate made them edible.
The all-in-one bars were rather good and very filling. I ate them for lunch twice because I was too busy to buy groceries. That never happens!
I needed energy for a day of testing. Would've been better had I blended it though.
The Simply Bar
provided me with two flavors to try. I've tried them once before when they sent me a freebie. They taste like rice crispy treats, but the stats are awesome - 160 calories and packed with protein. Hopefully, they'll make it to our shelves soon.
Coupons from my swag bag
Groceries thanks to those coupons and 99 cent popcorn, bread, ice cream, greens, and strawberries
These
Nature Made B-12 energy melts
really
did help this week.
And after all that hot yoga I did, the
Kevita
probiotic drink was exactly what I needed.
I got the mojito flavor that was a little too lime-flavored for my taste.
Fight bloating? Yes please.
What's your favorite protein smoothie/shake combo? I noticed that now that it's hotter, I want smoothies. They're also easier to digest!